Lumber 101
When purchasing wood, in most cases, as a homeowner/DYIer/weekend warrior, you aren't going be an expert on lumber. However, a brief overview will go a long way in helping you make an informed decision about the material you buy. After what seemed to be the millionth phone call from someone disappointed about the quality of lumber a contractor bought somewhere else and used on their fence, deck, or house siding, we decided to dedicate this section as an educational tool for our potential customers. Our hope is that you will better understand the differences in the quality of lumber we offer compared to what is commonly sold, so you will be more informed when it comes down to ultimately making your purchase. A small, incremental difference in cost may give you a substantial benefit in the appearance and longevity of your project. We have broken down these differences into the 5 most common concerns we have received:
Redwood Heartwood vs Redwood Sapwood (and other redwood grade concerns)
Finger Jointed Siding vs Solid Redwood or Cedar Siding
Fence Board Quality Differences
Composite vs Real Wood
Flooring: Reclaimed vs New
Heartwood vs. Sapwood
I
t's very important to know the difference between
sapwood and heartwood
. Many people think they are one and the same. The difference could be the matter of your project lasting 25 years or longer, or 25 months or less.
Typically, heartwood redwood has been sold in lumber yards and has given redwood an outstanding reputation amongst builders for both interior and exterior applications. Unfortunately, almost all of the big box stores and a number of our competitors carry a number of sapwood redwood products at their locations. Easily distinguishable by it's white color, sapwood (especially in wet weather) can begin to rot out or be attacked by pests in as quickly as five or six months.

WHY SPEND YOUR MONEY ON A PRODUCT THAT DOESN'T LAST!?!
When purchasing your redwood lumber, make sure to ask for an all heart product. Unfortunately, many uninformed homeowners ask their contractors simply for a redwood fence, deck, or siding, and what they receive is a cheap, inferior product. Fortunately for you at The Lumber Baron, you won't have to worry about sapwood lumber. We won't sell a product we don't believe in, and therefore offer only all heart redwood lumber, in five different grades.
Another common complaint we hear, has to do with redwood sapwood vs heartwood grades. Asking for clear redwood lumber won't get you a clear all heart product. What you'll receive will have no knots but will be a mixture of both of red heartwood and white sapwood. Recently we supplied the clear all heart lumber for a massive 2,000+ square foot deck in Hillsborough. Unfortunately for the customers, after just 2 short years, they were replacing their clear redwood deck. Upset with the mixed red and white appearance, and the extensive shrinkage between the boards, these customer's learned the hard way how important specifying clear heartwood is.
Finger Jointed vs. Solid Redwood and Cedar Siding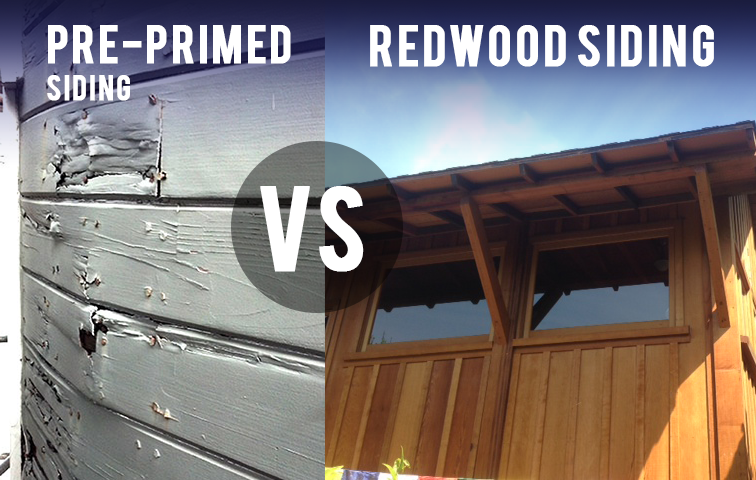 You should also be weary of pre-primed finger jointed products. Using a pre-primed finger jointed product can also lead to big problems (see failed siding picture). For siding applications, you are far better off using solid, heartwood lumber products with a proven, solid reputation like redwood or cedar. It may cost you a little more in the beginning but you'll have a lot less problems down the road. Buy the best, it's the cheapest in the long run!
Fence Board Qualities
Although it may not seem like much, a 1/2" makes a big difference in the quality a fence board. Aside from lower grades, the big box stores and a number of our competitors carry redwood fence boards that are both thinner and narrower than the boards we carry. A full ¾"+ thick x 5 ¾" or 7 ¾" wide, our all heart redwood fence boards are made to last. The flimsier your lumber is, the more prone the material is to warping, splitting, and cupping, all of which will dramatically affect the look of your fence and lead to its failure. Many times, if you factor in the competitors' boards milled at 5/8" thick x 5 1/4" or 7 1/4" wide, thus the need for more boards to cover the fence you are building, we end up being less expensive.
Composite vs. Real Wood
To us here at The Lumber Baron, there is no comparison when deciding between composite or real wood. Billed as maintenance free, composite lumber is generally anything but. Scratches leave composite lumber looking terrible. Mold, cracks, staining, and warping are an all too common occurrences: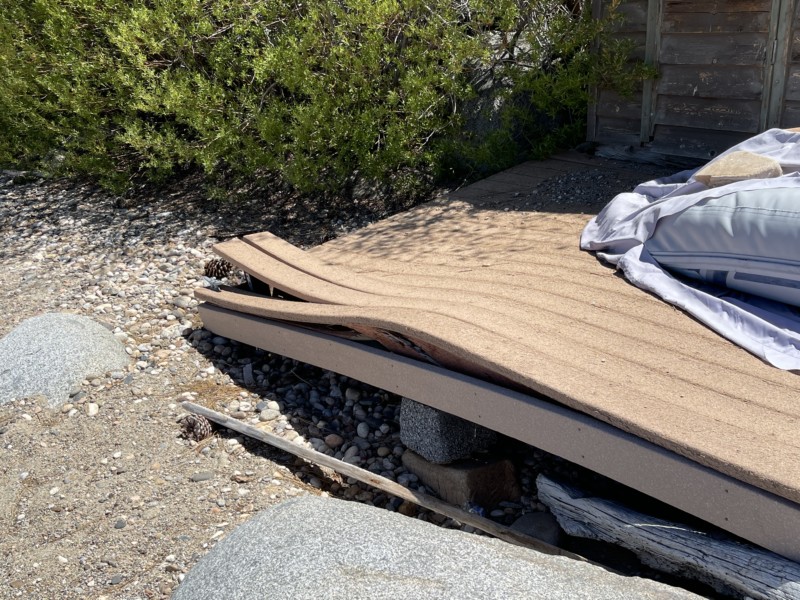 Yikes!!!
Composite Staining
Temperatures soar on composite lumber when compared to natural wood. Who wants a deck that will burn your feet in the warm summer months?
135*!
In our opinion the aesthetics of composite lumber is lacking. The material looks fake. Do you want the look and feel of real wood…then use real wood.
Lastly composites are made up of, in part, plastic. When it inevitably ends up in a landfill, composite lumber will components will take a MUCH longer time to decompose compared to natural wood.
We recommend you think long and hard before using composite lumber on your next project. It simply is not the maintenance free product it builds itself up to be. We feel you'll be much better off using natural lumber, especially the many REAL.GOOD.WOOD. products found at The Lumber Baron.
Much Better!
Flooring: Reclaimed vs. New
Our solid wood, reclaimed flooring products have many advantages over their new flooring counterparts. For one they are solid wood. Measuring 3/4″ thick or greater, they can be resurfaced over and over again as needed. Try refinishing a veneered "wood" floor. You'll be lucky if you can sand it once without exposing the mystery plywood beneath. Any savings gained using new flooring will quickly evaporate once the wear and tear become evident and the material needs to be replaced…again.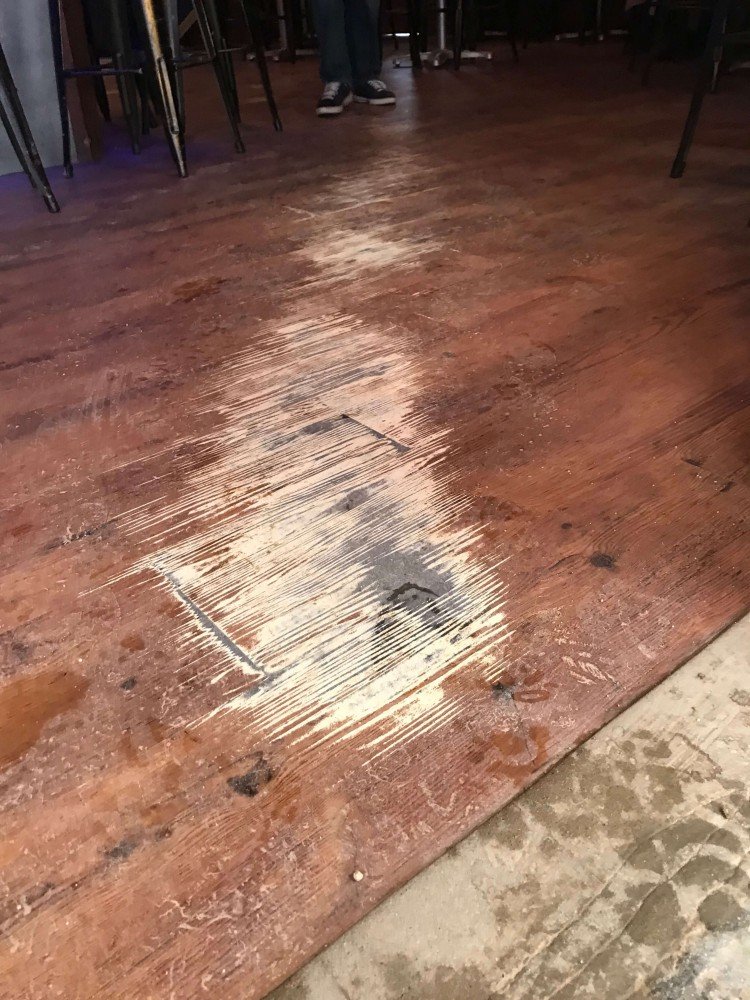 Time to replace
Many new products are comprised of glues and other dangerous chemicals that off-gas over time. You'll find no chemicals in our solid reclaimed, sustainable, wood flooring products.
Short lengths look busy and cheap. Why deal with 1′, 2′ and 3′ increments when you can install long lengths instead. Our usable length average generally averages 10′ in our reclaimed solid reclaimed, sustainable, wood flooring products.
Busy, Busy
We feel protecting the integrity of the Bay Area's older homes is very important. As such, we go out of our way to stock the old style 1×4 fir flooring found in some many of the older homes in the area. Hand selected for its growth ring density, we recently transformed around 5,000 board feet of reclaimed 4×8 beams into exquisite clear vertical grain flooring. Measuring 3/4″ thick and with a 3 1/4″ exposed face this material is perfect for those trying to match many of the floors found in older Bay Area homes.
Other frequently asked questions:
How do I remove black marks I see on my lumber?
Unfortunately, black marks are a pretty common occurrence on redwood, especially during the wet winter months. It's a chemical reaction that occurs when the tannins in the redwood come in contact with metal and water. Fortunately, there is a very easy remedy. To remove black mill and banding marks from freshly milled Redwood, apply oxalic acid mixed in very hot water. Scrub with a bristle brush and rinse off with cold water after about 5 minutes. The results are dramatic (see below). We sell a small container for $10 here at our yard.
Before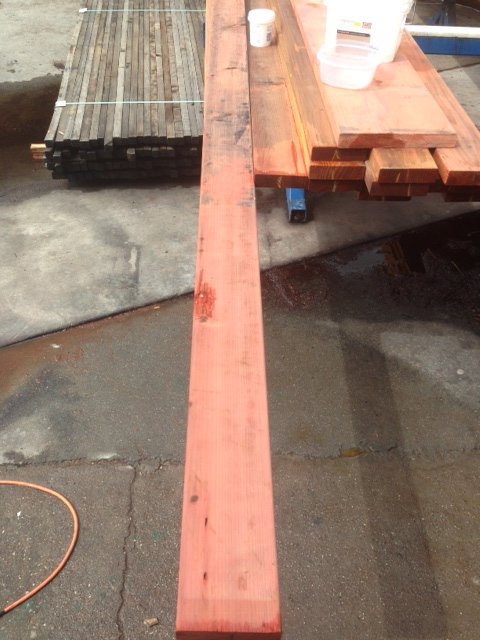 After
Where do I buy nice redwood, western cedar, or reclaimed lumber in the Bay Area?
Well, here at The Lumber Baron of course! =) Having specialized in high-quality lumber and been in business since 1988, we buy only from the best mills and are very particular about the lumber we reclaim.  We consistently offer the highest quality, widest selection, and lowest prices in the Bay Area.
Unlike other lumber yards, The Lumber Baron offers five grades of premium all-heart redwood to satisfy the highest standards for any budget.  Building a redwood deck or fence? Residing your home? Make a trellis or arbor? We stock over twenty-five different sizes of redwood, surfaced and rough, in both unseasoned and kiln dried lumber. A complete list of our inventory can be found on our products page.
From 2×6 redwood decking, to 12×18 recycled redwood beams, we have the material to satisfy all your redwood building needs.  We are happy to custom mill to any unusual dimension or redwood pattern.
Green building is very important to us and the health of our planet.  To serve your Green Building lumber needs, we offer a number of different reclaimed, salvaged and recycled redwood, cedar and Doug Fir lumber products.  We also offer FSC certified tropical hardwoods Angelim, Garapa, Cumaru and Tigerwood.  The redwood we stock is from generational mills who cut at sustainable rates, in order to ensure they have something to pass down to future generations.  All the #2 and btr Western Red Cedar we sell is 100% PEFC Certified.
I don't have a truck, what do I do?
Don't worry, we deliver our lumber products throughout the Bay Area and beyond.
Does Redwood require Sealers?
Although Redwood has the highest decay and weather resistance of any commercially available softwood, its appearance and longevity can often be enhanced by use of penetrating oil sealers, especially in sites with high sun exposure.
Left untreated, redwood weathers to a dark "driftwood" grey only when exposed to rain. In sheltered locations, where oxidization is not subject to "rinsing" precipitation, redwood typically weathers to a dark brown.
The proud owner of a new deck invariably wants to preserve its "just-installed" appearance. In practice this is virtually impossible: even with annual application of a transparent sealer, redwood will eventually turn grey.
Redwood sealers can, however, provide several non-cosmetic benefits: water repellents slow down the seasoning process, fungicides reduce the growth of decay organisms, and UV inhibitors help prevent the breakdown of wood fibers by sunlight.
When Do I Apply Redwood Sealers?
Wait two to four weeks in good weather before applying a penetrating oil sealer to unseasoned redwood. If oil sealers are applied to very wet redwood, the oil will not penetrate, and may puddle. If allowed to congeal, puddled oil sealers become tacky and very difficult to remove.  Kiln Dried redwood can be sealed right away.
Sealer Application
All sealers penetrate farther in dry wood. After installation of green or unseasoned redwood, wait four to six weeks to reduce surface moisture. Green redwood two-by material may require up to two years to fully dry.